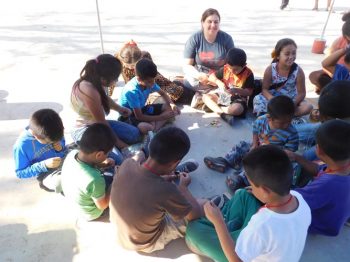 Hello Friends,
 It's hard to believe that we are just about to begin another ministry week with our last team of the summer!  This will be our 4th week of VBS in a row.  This last week, although we didn't have a team, we held VBS for the children in our village.  I have included a picture where I was delighted to get to be a group leader during craft time!
 We would appreciate your prayers that God would touch children's hearts at VBS this week in Camp Vergel.  This will be our biggest VBS of the summer with somewhere between 250-400 migrant camp children participating.  Fortunately, we have a team of 55 from Sacramento, CA, that will help us be the hands and feet of Jesus to these children.  The children's parents spend the day picking tomatoes and cucumbers and don't have a lot of time to spend with them.   On Thursday, we will get to share the Gospel with the children in small groups during our health fair.  This is always a precious time.   We are so blessed to love on these children and share the good news of Jesus with them. 
We will go into Camp Vergel two nights this week to show a Christian film, share the Gospel, pray and give out Bibles.  We are amazed at how many adults have been coming forward to give their lives to Christ this summer!  It feels like the harvest is ripe with the fruit ready to fall off the vine into our hands.  We pray that we would continue to see more people saying, "Yes!" to Jesus this week.
Thank you so much for your prayers!
God bless you!
Theresa, Buky, and Elena